Providing Livelihood to Artisans: Empowering Lives through Happy Faces Foundation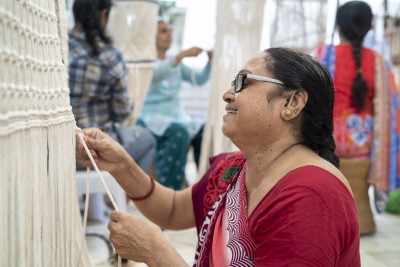 In a world where finding work can be tough, we, at Happy Faces Foundation (HFF), are proud to make a significant impact by helping artisans earn a living. With a strong focus on women's empowerment and sustainable practices, we are transforming lives and creating positive change in our communities. Let us share the inspiring journey of HFF and how we continue to bring smiles to artisans' faces.
The Beginning of Happy Faces Foundation: Our foundation was born out of a deep sense of compassion and a desire to make a difference in the lives of women artisans. Our founder, Rita Bhagat, was moved by the struggles faced by these talented women and decided to create a place where they could have an opportunity to support themselves and their families.
Empowering Artisans: Our Journey of Growth: At HFF, we believe in providing opportunities for growth and development for our artisans. Through our workshops and training programs, we empower them with new skills and knowledge, helping them become more self-sufficient and confident in their craft.
Creating Sustainable Livelihoods: Sustainability is at the core of our work. By promoting eco-friendly practices and using materials like banana fiber and macrame, we not only create beautiful products but also contribute to a greener and more sustainable environment.
Impact on Communities: Through our efforts, we have seen a positive impact on the communities we work with. Artisans who were once struggling to make ends meet are now earning a sustainable income and providing for their families. Their stories of resilience and success inspire us every day.
As we continue on this journey, we are committed to expanding our reach and creating more opportunities for women artisans across Gujarat. We believe that with your support, we can create a brighter and more empowered future for all.
Join us in our mission to provide livelihood to artisans and be a part of our journey towards a more inclusive and sustainable world. Together, we can make a difference and spread smiles all around.
What's your reaction?
0
Cool
0
Upset
0
Love
0
Lol